R-Studio is a family of powerful
and
cost-effective
undelete
and
data
recovery
software. Empowered by the new unique data recovery technologies, it is the most comprehensive data recovery solution for recovery files from FAT12/16/32/exFAT, NTFS, NTFS5 (created or updated by Windows 2000/XP/2003/Vista/2008/Win7), HFS/HFS+ (Macintosh), Little and Big Endian variants of UFS1/UFS2 (FreeBSD/OpenBSD/NetBSD/Solaris) and Ext2/Ext3/Ext4 FS (Linux) partitions. It functions on local and network disks, even if such partitions are formatted, damaged or deleted. Flexible parameter settings give you absolute control over data recovery.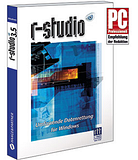 The Benefits for R-STUDIO users
Microsoft, Windows, and the Windows logo are trademarks, or registered trademarks of Microsoft Corporation in the United States and/or other countries.
Should data recovery software be unable to recover or repair your files, we recommend that you contact our partner Seagate Recovery Services, a world leader in professional in-lab recovery services for all formats and brands of digital media.
Independent Reviews
In addition to being a full-featured data recovery utility, R-Studio also includes: An advanced RAID reconstruction module
A feature-rich text/hexadecimal editor
An entire advanced disk copying/imaging module in one single piece of software, which makes R-Studio your ideal complete solution for creating a data recovery workstation.
R-Studio utilities recover files
Deleted without Recycle Bin, or when Recycle Bin has been emptied;
Removed by virus attack or power failure;
After the partition with the files was reformatted, even for different file system;
When the partition structure on a hard disk was changed or damaged. In this case, R-Studio utilities can scan the hard disk trying to find previously existing partitions and recover files from found partitions.
From hard disk with bad sectors. R-Studio Data Recovery Software can first copy the entire disk or its part into an image file and then process the image file. This is especially useful when new bad sectors are constantly appearing on the hard disk and remaining information must be immediately saved.
R-Studio features implemented in versions 4.x
Support for digital camera raw images. Canon, Fuji, Minolta, Nikon, Olympus, Sony, and Sigma are now supported.
Versatile data visualization. R-Studio can show data on the disk either as a real folder/file structure or as files sorted by their extensions, or Creation/Last Accessed/Modification times.
File Sorting. Found files and folders can now be easily sorted by the original structure, file extension or file creation/modification time.
Expandable Known File Types. New file signatures can be added to the list of known file types by the end user.
Support for mass file recovery. R-Studio can automatically apply data recovery options for all files to recover.
Common Find/Mark dialog. R-Studio can automatically find and mark multiple files matching search options specified on the Find/Mark dialog.
Hex Editor Enhancement. Files can be shown as ANSI or UNICODE text.
HFS and HFS+ file systems support. In addition to FAT/NTFS/ExtFS2/ExtFS3/UFS1/UFS2 R-Studio supports HFS and HFS+ file systems developed by Apple Computer for use on computers running the Mac OS.*
The Windows version of R-Studio cannot be installed and run on a Mac OS system, but a hard drive with HFS and/or HFS+ partitions can be attached to the Windows machine and processed by R-Studio. You may also download R-Studio for Mac version that was designed for the Mac environment and can be installed and run on a Mac OS system.
Apple Computers support. New R-Studio Emergency version can be run from CD on Intel- and PowerPC- based Macintosh computers.
Big Endian variant of UFS support.
GPT partition layout schema support. This schema is used in 64-bit Windows OS.
APM support. Apple Partition Map (APM) is a partition scheme used to define the low-level organization of data on disks formatted for use with Macintosh computers.
Support for various unusual RAID configurations. Parameters like block size and order, offsets, and even the number of stripe blocks can be explicitly specified. A visual editor is provided to create a specific block order. Such user-defined configurations can be saved for further use.
R-Studio Technician Portable was added to the R-Studio Technician package. The portable version can be run from a USB storage device.
Compressed image format support. When R-Studio creates an image of the disk or its part, the image can be compressed and split into several files to put it on CD/DVD/flash drive or FAT16/FAT32*.
R-Studio reads and opens the created image only for the purpose of data recovery. For disk imaging and restoration tasks please consider R-Drive Image software.
R-Studio Data Recovery Features
Standard Windows Explorer - style interface.
Host OS: Windows 9x, ME, NT, 2000, XP, 2003 Server, Vista, 2008 Server, Windows 7.
Data recovery over the Network. Files can be recovered on network computers running Win95/98/ME/NT/2000/XP/2003/Vista/2008/Windows 7, Macintosh, Linux, and UNIX.
Supported file systems: FAT12, FAT16, FAT32, exFAT, NTFS, NTFS5 (created or updated by Win2000/XP/2003/Vista/2008/Win7), HFS/HFS+ (Macintosh), Little and Big Endian variants of UFS1/UFS2 (FreeBSD/OpenBSD/NetBSD/Solaris) and Ext2/Ext3/Ext4 FS (Linux).
Recognition and parsing Dynamic (Windows 2000/XP/2003/Vista/2008/Win7), Basic(MBR) and BSD (UNIX) partitions layout schema and Apple partition map. Dynamic partitions over GPT are supported as well as dynamic partitions over MBR.
Damaged RAID recovery. If the OS cannot recognize your RAID, you can create a virtual RAID from its components. Such virtual RAID can be processed like a real one.
Creates IMAGE FILES for an entire Hard Disk, Partition or its part. Such image files can be compressed and split into several files to put it on CD/DVD/flash or FAT16/FAT32/exFAT. Then the image files can be processed like regular disks.
Data recovery on damaged or deleted partitions, encrypted files (NTFS 5), alternative data streams (NTFS, NTFS 5).
Recovering data if:
o FDISK or other disk utilities have been run;
o VIRUS has invaded; FAT is damaged; MBR is destroyed.
Recognizes localized names.
Recovered files can be saved on any (including network) disks accessible by the host operating system.
File or disk content can be viewed and edited with the advanced hexadecimal editor. The editor supports NTFS file attribute editing.
SYSTEM REQUIRMENT:-
OS;- WINDOWS XP,2000,ME,98, WINDOWS NT, VISTA.
PENTIUM III, 32 MB OF RAM, ENOUGH DISK SPACE TO RECOVER FILES, A MOUSE, IMAGE FILES.